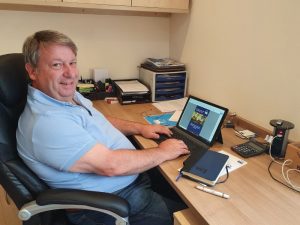 Tony Palombo, Managing Director for Construction Logistics, shares an update on what has been a very busy few weeks helping the construction sector remain operational.
It has been great to see the positive response that the vast majority of our clients have taken in following UK Government advice to keep their construction projects moving forward. For many it could have been easier to simply close sites down. But instead, momentum has been maintained, and I would estimate that some 80% of the high-end construction projects in which we work are operational.
Of course, this has required constructors to put elaborate social distancing measures in place – never an easy task on a construction site. Clients have leaned heavily on us to help them implement these procedures, drawing on our close involvement with Build UK, a major contributor to the Site Operating Procedures issued by the Construction Leadership Council. 
Our procurement teams have also been hard at work ensuring sites have the right supplies to facilitate safe working. Understandably, they are seeing a huge demand for cleaning products and safety and health equipment to make safe working on site possible, and I must praise the amazing efforts of both Wilson James employees and our clients in collaborating to get this equipment sourced and in use. 
Our insight into the supply chain relied upon by high-end construction suggests that there is presently some difficulty in getting building materials. As a result we are encouraging our clients to get bulk purchases and store them at our dedicated London Construction Consolidation Centre (LCCC) in Silvertown, East London. Luckily, we obtained additional capacity in Tilbury earlier in the year so have been able to make room at Silvertown to support NHS Nightingale.
As you may know, Wilson James was heavily involved in the development of NHS Nightingale at the ExCeL centre in London, having been initially tasked with coordinating the construction logistics aspect of the operation but then asked to support the NHS supply chain as well.
This means ensuring that items including drugs and medicines, medical equipment, beds and hazardous waste bags are met on delivery and then categorised, audited, inventoried, stored and delivered to where they are needed.
It's a great example of Wilson James expertise in planning and strategy – something we take great pride in – as well as our ability to step up and fight fires when needed.
Difficult decisions have had to be made over the last few weeks and this has resulted in the furloughing of some employees. Equally, some of our people are self-isolating, or have family members who are susceptible to the virus, and so are unable to come into work. We respect and sympathise with their position and are working to provide support for all our people in this difficult time.
Our communications team has been excellent in making sure our employees remain informed. A weekly town hall meeting with all support staff, whether working or furloughed has kept everyone updated. I must also mention the great efforts to address wellbeing and community through initiatives such as the Keeping Well campaign.
We are now working to get clients' remaining sites back to full strength and helping them understand the social distancing measures and safe working procedures that must now be implemented to do so.
We are actively involved with Build UK to determine how safe working environments can be created. Build UK itself has also been forward in communicating with Government bodies about what needs to be done to get back to normal.
And we will get back to normal, even if that takes time and might look different for a while. What has struck me from the outset of this crisis has been the willingness of rivals across the construction sector to put aside their differences and co-operate. Nightingale is of course the clearest example of this, but I could point to many other sites where a genuine sense of cooperation is helping them remain operational.
As Build UK Chief Executive Suzannah Nichol put it recently: "Faced with a crisis the likes of which we have not seen in our lifetimes, our sector has collaborated and worked with government in ways few would have thought possible, providing the information and guidance companies need to respond to the unprecedented circumstances they find themselves in."
We can all be proud of our work to keep the UK building its future, and I applaud the efforts of everyone at Wilson James playing their part.