Congratulations to Brandon Caldwell, Security Officer at Wilson James, for getting his Extra Mile Award!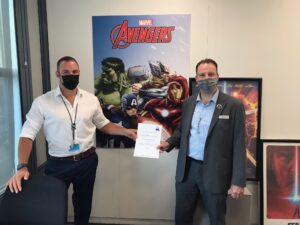 At the start of the lockdown one of our officers noticed that the facilities contractor was only watering the plants provided by facilities. There were multiple plants throughout the building which were not being looked after. So Brandon took it upon himself to water the smaller plants on cast members desks.
As there were quite a few different locations, he grouped them into 6 (nurseries) areas to make it easier to expose them to natural light and water them.
He takes great pleasure in his unofficial role as 'The Constant Gardener', and hoped that when cast members returned to office, they would be pleasantly surprised. His gardening work was noticed and enquiries were made to discover who had been tendering the plants. Not even his colleagues were aware what he'd been doing and he was characteristically modest when asked about it, saying that he "just wanted to maintain the life of the plants and provide a bit of good news for returning cast members to deflect from all the bad news during the pandemic." More than 12 months later, he continues to tend the nurseries in his own time.
There was no requirement for Brandon to take on this task. This shows great empathy and pride in his work. It demonstrates how outstanding he is not only as a  WJ employee but as a member of the Disney team too. This is evident in all his work.
The Disney Country Manager, Deborah Armstrong, publicly called Brandon out to thank him during the UK Employees Town Hall.
Well done to Brandon!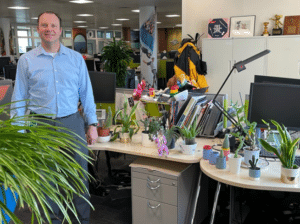 If your site has any stories you would like to share, please email communications@wilsonjames.co.uk