Congratulations to Michal Warot, Security Supervisor at Wilson James, for getting his 'Extra Mile' award!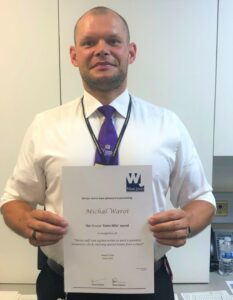 Whilst on a routine patrol on 23 May around 3am, Michal heard a hissing noise from a gas storage room. When he checked the door and found it open, Michal discovered that the hissing nose was a leak of argon gas. Michael immediately contacted BOC and followed the instructions given on the phone by an engineer to isolate the leaking supply. Further call was made to interest party within the NHM advising of the incident.
Well done to Michal for his quick thinking and attention that averted a potential incident!