COP26 OVERVIEW
The 26th UN Climate Change Conference of the Parties (COP26) on 1-12 November 2021 aims to 'accelerate action towards the goals of the Paris Agreement and the UN Framework Convention on Climate Change'. Attendees are expected to be representatives of Parties to the Convention and Observer States, members of the press and media, and representatives of observer organisations. 1. 30,000 people are expected to attend the event in Scotland from over 200 countries. 2.
This year's COP goals are:
• Secure global net zero by mid-century and keep 1.5 degrees within reach.
• Adapt to protect communities and natural habitats
• Mobilise finance
• Work together to deliver.
Climate activist campaigners from a number of protesting groups such as Extinction Rebellion (XR), Friends of the Earth, Greenpeace, Stop Climate Chaos Scotland, UKSCN and Stop Cambo are highly likely to protest in a number of cities and locations across Scotland between 1 st and 12th November as Glasgow hosts COP26. Glasgow (hosting the event) and Edinburgh (seat of the Scottish parliament, previous target for Stop Cambo occupations) are highly likely to be the most affected locations with traffic disruption and demonstrations anticipated.
Individuals requiring travel into Central Edinburgh and Glasgow during this period for business and Leisure should be aware of the risks of activist demonstrations and seek opportunities to minimise their travel during these times. Businesses should also review their access routes in and out of their buildings and seek to ensure alternative routes are available in the event some become compromised.
PREVIOUS SUMMITS
COP26 has been delayed for a year due to the COVID-19 pandemic. COP25 was held in Madrid, Spain in 2019 (after Brazil and Chile stepped down from hosting duties). Its aim was to finalise guidelines ('Katowice rulebook') governing the Paris Agreement of 2015. This was to establish rules on how governments implement their Nationally Determined Contributions (NDCs). 3.
The change of country and continent shortly prior to COP25 meant that a number of activists, who set sail across the Atlantic Ocean to South America in advance of the conference, missed the conference. Youth activist Greta Thunberg (Greta is now 18 years old) delivered her speech 'How dare you' which received large press coverage. 4. The conference drew protests Europe-wide with marches reported in Spain, Brussels, Paris and the UK (where access was blocked to Heathrow airport). 5. Youth climate activists were particularly prevalent in the COP25 protests. 'Fridays for Future' the global movement motivated after Greta Thunberg's school strikes called for action stating the summit 'has failed us'. 6.
'Fridays for Future' recorded 115,910 individuals conducting strikes in March 2021, under their banner, in the March of 2019 this was significantly higher with 2,280,959. In November 2019 this halved to 1,192,120.
The Youth Summit 28-30 Sep 21
The Youth Summit – 'YOUTH4CLIMATE: Driving Ambition' was held in Milan last week (28-30 Sep 21)
'Offer young people from all over the world the opportunity to develop concrete proposals for Pre-COP26 in Milan and COP26 in Glasgow' 7.
Attended by youth activists from around the globe, the summit coincided with a pre-planned Global Climate Strike protest arranged for the preceding week where Thunberg addressed world leaders challenging their efforts at combating climate change describing it as 30 years of 'blah…blah…blah…'
#
"Build back better. Blah, blah, blah. Green economy. Blah blah blah. Net zero by 2050. Blah, blah, blah…This is all we hear from our so-called leaders. Words that sound great but so far have not led to action. Our hopes and ambitions drown in their empty promises."8.
Hundreds of thousands of mostly youth activists from almost 100 countries took part in the strike in over 700 locations. 9. 10.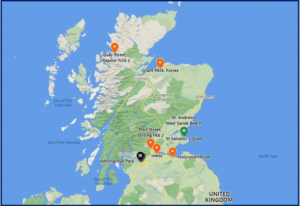 Targeted locations in Scotland included: 11. 12.
• Glasgow – Youth Activists marched from Kelvingrove Park to Georges Square (next to the Glasgow City Council offices). 250 people were believed to be in attendance.
• Edinburgh – Youth protestors gathered outside Holyrood House, the seat of the Scottish Parliament. 300+ people in attendance, eighteen people were arrested.
• Ullapool – A weekly protest continued on Quay Street.
• Stirling – Protestors demonstrated on Port Street
• St Andrews – A march was arranged from St Salvator's Quad to West Sands
• East Kilbride – Demonstrators protested outside the Civic Centre
• Forres – A march was arranged from Thomson Memorial to Grant Park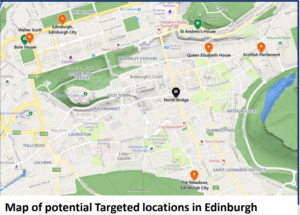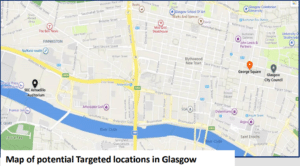 SCOTTISH PROTEST ACTIVITY OF NOTE (LAST TWO YEARS)
Previous Scottish protest activity regarding Climate Change has been concentrated mainly in Glasgow and Edinburgh. This year alone there have been 'Stop Cambo' occupations at Queen Elizabeth House, Edinburgh; COP26/G7/XR protests outside Glasgow City Chambers and Holyrood House, Edinburgh. In previous years XR rebellion were identified blocking the thoroughfare on North bridge in Edinburgh and the entrance to the INEOS terminal at Grangemouth. The First Minister's official residence in Edinburgh has also seen a number of anti-lockdown protests over the past 18 months.
13. 14. 15. 16. 17. 18. 19. 20. 21. 22.
POLICE UPDATES
As of 1st October 2021, it will become a criminal offence to protest outside the Scottish Parliament "without lawful authority" with fines imposed of £5,000 or a year in jail. It is understood these additional measures have been granted under The Police and Criminal Evidence Act 2005 bringing the Holyrood Estate in line with similar measures exercised by the Houses of Parliament and the Welsh Senedd. 23. There are also plans to increase the sessions available to the Scottish court during the summit in order to deal with the anticipated large numbers of arrests.24.
Existing Nationwide counter-terror and criminal police operation, Project Servator, will become part of the COP26 policing tactics and aims to disrupt a range of criminal activity including terrorism. Initiated in 2014 by the City of London police, Project Servator was adopted Nationwide after a successful trial. 25. Police Scotland's Project Servator together with community and business partnerships will aim to 'continue to protect our streets and everyone who lives, works or visits here' and hope it will provide 'a reassuring presence for the public'. 26.
Police Scotland have provided information on the purpose of Project Servator and how to report any concerns.
Information from Police Scotland regarding COP26 27.
• Planning for COP26 has been under way for over a year
• "With an event of this scale, disruption is inevitable but we are working with partners to keep this to a minimum." Deputy Chief Constable Kerr
• Police Scotland is encouraging the public to play their part by reminding them to be vigilant and report anything that seems out of place or unusual.
• Around 10,000 officers will be deployed each day during the COP26, one of the largest policing operations undertaken in Britain.
• Police Officers will be deployed from each of Scotland's 13 divisions and specialist resources, including firearms officers, dog handlers, mounted branch,
search teams and the marine unit.