The 47th G7 summit is due to take place in Caris Bay, St Ives, Cornwall, this weekend (11th – 13th June 2021) and will comprise of attendees from the seven member states and representatives from the European Union. This year's agenda includes:
The global response to the Covid-19 pandemic;
Climate change;
The global approach to pandemics in general;
The equal, global distribution of vaccines;
The design of a global early warning system;
Global policies for future health emergencies and the reduction of trade barriers.
Leaders from India, South Korea, South Africa and Australia have also been invited to attend by UK Prime Minister, Boris Johnson, who has extended the invitations in hope of expanding the seven members to ten, creating the D10 (the World's leading ten democracies).1.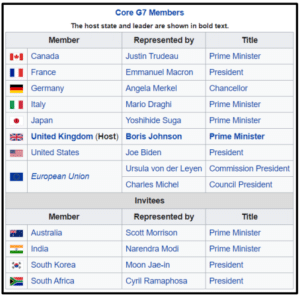 (Wikipedia 2021)
Previous Summits
This year's summit is the first for two years due to the COVID-19 pandemic, forcing the 2020 summit to cancel.
The 45th summit held in Biarritz, France in 2019 covered topics including:
Modernisation of international taxation;
The joint desire to ensure Iran does not acquire nuclear weapons;
Russian military intervention in the Ukraine;
The 2019-20 Hong Kong protests.
Previous Protests
In 2019 Biarritz and surrounding areas saw thousands of protestors from movements such as, Yellow Vest (Gilets Jaunes), Basque separatists (ETA) and environmental activists descend on its streets. 3. On the Saturday of the 2019 weekend, police had resorted to using water cannons and tear gas to disperse some of the crowds gathering on the outskirts of Biarritz and made sixty-eight arrests. Elsewhere in South West France non-violent group ANV-Cop21 removed portraits of French President Emmanuel Macron from town halls and marched with them upside down in protest of his conflicting domestic and international climate policies.4.
The last UK based meeting, the G8 (G8 and not G7 as Russia was in attendance) held in Enniskillen, Northern Ireland in 2013, saw a number of peaceful protests against, fracking, tax evasion and world hunger. 5. Russia attended as a member between 1998 and 2013, bringing the total number of member states to eight. Russia's participation was suspended in 2014, predominately due to their annexation of Crimea. This year they remain uninvited. 6.
This years' location
This years' location presents issues on two fronts with protests possible from both land and sea (Extinction Rebellion have previously held anti-pollution protests in Falmouth harbour). 7. Having drafted in five thousand extra police officers from across the country, for this year's summit, Devon and Cornwall police are preparing for both peaceful and disruptive protests with four sites nominated as designated protest zones:
Plymouth Hoe, Plymouth, Devon;
Flowerpot playing field, Exeter, Devon;
Church Street carpark, Falmouth, Cornwall;
Lemon Quay, Truro, Devon.
Devon and Cornwall police will utilise these zones, together with exclusion zones around the events by air, land and sea; two-step identification to access restricted areas and continuous mobile security patrols to help mitigate security concerns around the G7. 8.
More information is available regarding the local security measures here.
Map of St Ives, Caris Bay and restricted areas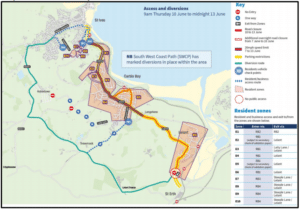 For further information on Extinction Rebellion's 'Cornwall Rebellion' weekend of action, please click here.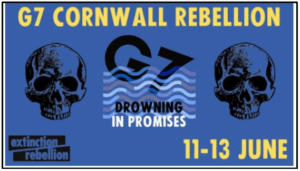 Devon and Cornwall protest schedule:
7-10 June – 'Make the Wave' march, nationwide
11th June – G7 Summit protest, St Ives
11th June – G7 Climate Strike, Gyllyngvase beach, Falmouth
12th June – 'G is for Greenwash' protest, Kimberley Park to Event Square, Falmouth
13th June – G7 Summit protest, St Ives