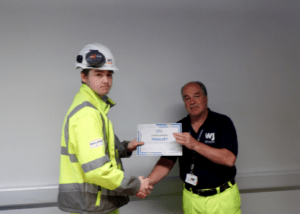 Charlie Rhodes, Building Logistics Operative at Wilson James (WJ) has been nominated as a finalist in the Supported Employee of the Year category in the Somerset Education Business Partnership Awards 2023.
Charlie, who works for the Construction Logistics team on Hinkley Point C, joined Wilson James through the Supported Traineeship Programme, which supports individuals with special educational needs and disabilities (SEND) or an Education, Health and Care plan (ECHP), providing them with employment experience and training in readiness for the workplace.
Wilson James is a proud supporter of the Supported Traineeship Programme, as part of our partnership with the Mechanical and Electrical Alliance on Hinkley Point C.
The 10-week programme which is aimed at 18–24-year-olds sees individuals receive a mix of work readiness training and time spent learning on the job through project placements with a contract partner with a view to securing permanent employment.
Charlie successfully completed a 5-week traineeship with Wilson James, following which WJ offered him full-time employment.
As one of the UK's leading construction logistics suppliers, Wilson James is keenly aware of the challenges facing the construction sector and the growing skills gap. Therefore, encouraging the younger generation into the industry and supporting initiatives such as the Supported Traineeship Programme is of huge importance.
Alongside Charlie, WJ has also recently offered full time employment to several other individuals who joined on a placement through the Supported Traineeship Programme, all of whom are now excelling in their new roles and have started their journey towards rewarding careers in the construction industry.
Donna Brown, Skills Development Manager, Hinkley Point C, said: ""I wanted to say a huge and sincere thank you to you and your team at Wilson James for providing such a fantastic placement experience for Charlie. The 10-week programme has come to an end, but I'm thrilled to hear that Charlie has been offered permanent work – this really is the most amazing outcome for him.
"This programme really does change lives, not just for the individual involved but also their wider family. It's thanks to employers such as yourselves who are committed to investing in young people, and to ensuring that the Project is a more inclusive and diverse place to work, that this programme has been such a success."
ENDS